Collection:

MOLDAVITE

Hand Made Real Moldavite Jewelry

Crafting stylish and powerful gold Moldavite Jewelry.

My Moldavite is sourced direct from the Czech Republic and is authentic.

Collections are made in my San Francisco studio.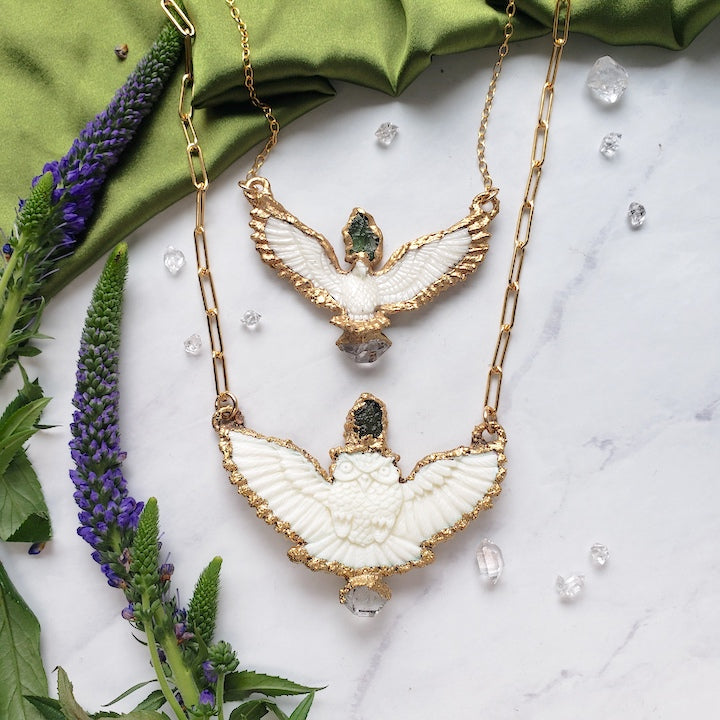 More About Moldavite: 
WHAT IS MOLDAVITE?
Moldavite is a tektite of intense frequency and high vibration. Formed 15 million years ago when a meteorite hit Earth with the power of an atomic explosion.
WHERE IS MOLDAVITE FROM?
All genuine pieces of Moldavite come from only one area of the world in the Czech Republic.
HOW TO KNOW IF MOLDAVITE IS REAL OR FAKE?
Real Moldavite is uneven, sometimes rough on the edges, comes in many different colors of greens, can be dirty, ridged and asymmetrical.  You can spot a fake moldavite by its too shiny appearance, it's too perfect symmetry and cheap price coming from other countries.
All my Moldavite is sourced direct from the Czech Republic and trusted sources.
MOLDAVITE NECKLACES
One of the most popular items, We offer a range of elevated and stylish Moldavite Necklaces, from small Moldavite Pendants to Moldavite Statement pieces. Each piece unique and undeniably energetic. 
MOLDAVITE ADJUSTABLE RINGS
Adjustable Moldavite Rings in Gold and Silver. Rings are sculpted and cast in brass then that 18k gold plated or antique silver plated.
MOLDAVITE + HERKIMER PRIESTESS RINGS
The Power piece for your collection.  The Moldavite and Herkimer Diamond Priestess Rings are each hand sculpted onto a copper base, then copper electro formed and 18k gold plated.
MOLDAVITE DANGLE EARRINGS
Geometric and organic earring designs in brass and 14k goldfill. I match each Moldavite into the best designs of dangle earrings available.
MOLDAVITE STACKING BRACELETS
We offer Moldavite stacking bracelet cuffs in an elegant style. Bracelets are copper electro formed and 18k gold plated, giving each piece an heirloom quality. 
MOLDAVITE INTUITIVE PENDULUMS
Harnessing the out of this world energy, Moldavite Pendulums offer a little something extraordinary.  These Pendulums are designed for divine guidance practitioners and anyone interested in elevating their experience.
WHAT IS MOLDAVITE?