Custom Design + Private Commissions
Let's Create Your Next Dream Piece of Jewelry, Home Decor or Gift to Give that has the WOW factor.
Can you make me a custom piece?
Yes! I love working with my clients to design powerful, beautiful, personal pieces exclusively for YOU.
My most popular customs are for Special Occasion Gifts, Alternative Bridal, Milestone Birthdays , and meaningful power pieces for people who want to treat themselves. To get started, fill out my custom jewelry form.
START HERE with the Request Form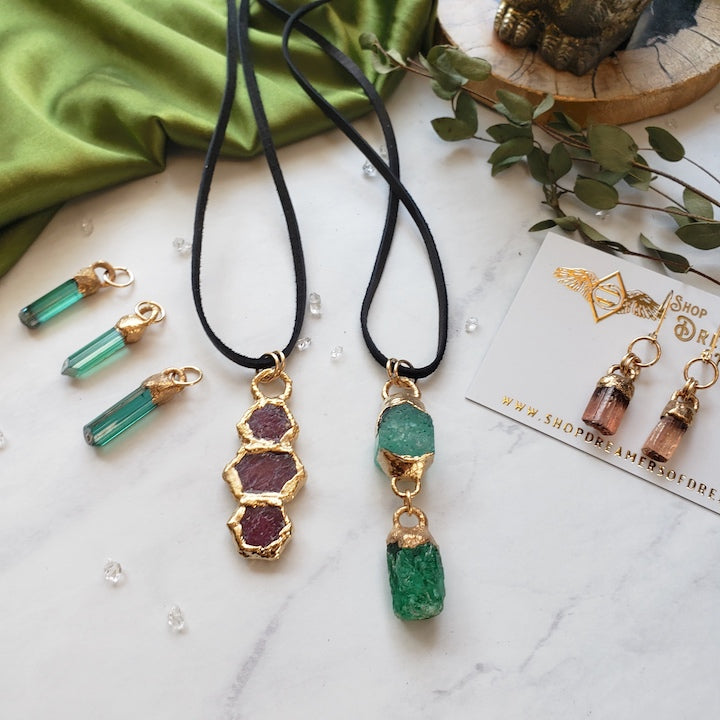 Let's Talk!
Book a Design Consultation
Once your form is filled out, I will contact you to book a free consultation to discuss your piece.
We'll explore a variety of options by getting a clear understanding of your personal style, preferences, budget, and timeline. My desire during this design consultation is to ensure we are creatively aligned and a good fit.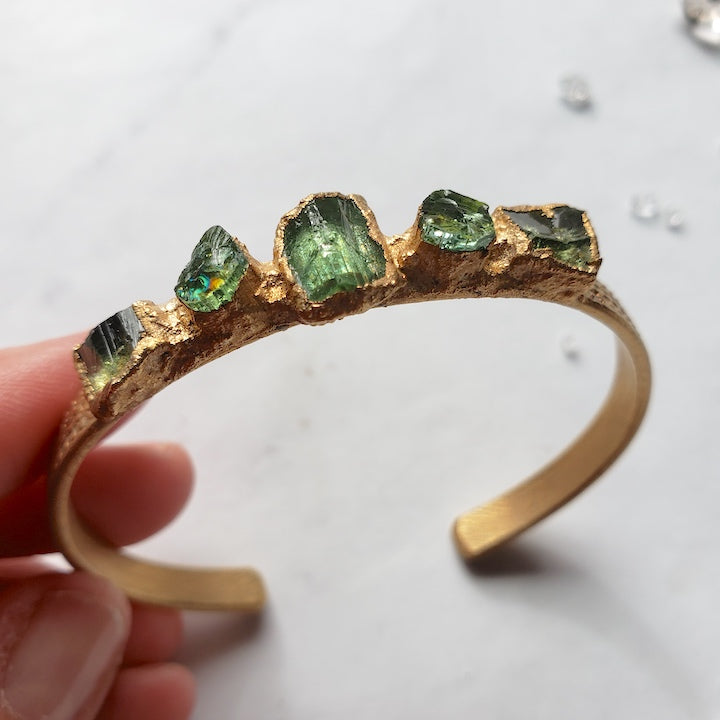 Creative Time
Stone Selection + Design Phase
Once we decide on the project piece, budget &timeline, we get to the fun part, designing the custom piece.We'll start by selecting stones (or designing around yours) and sketch out ideas based on our initial design meeting.A final quote is delivered, a deposit is taken, and we get into the production phase. YAY!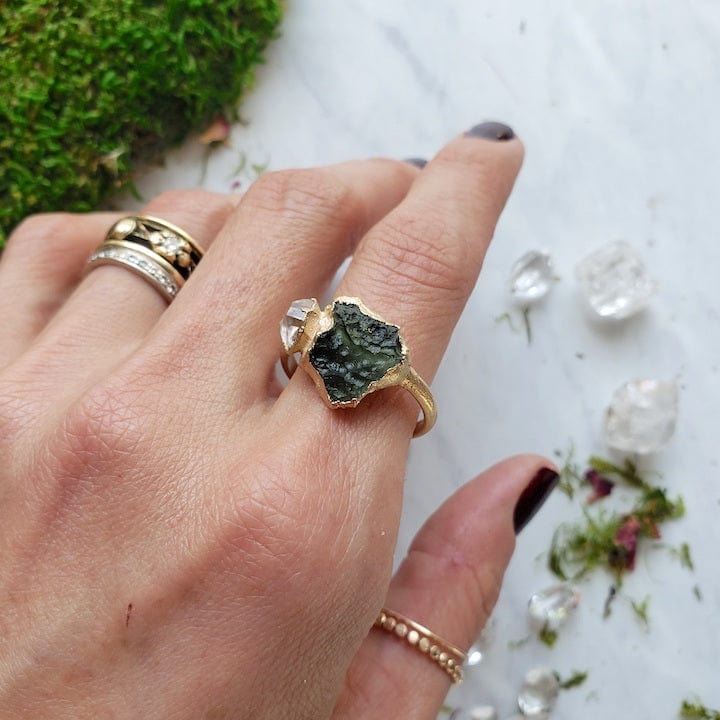 Production Stage
Once we finalize the design, your piece starts the production journey and the multiple steps to completion: from sculpting to electro-forming and gold plating and finishing. Within 6 - 8 weeks your piece will be ready for delivery!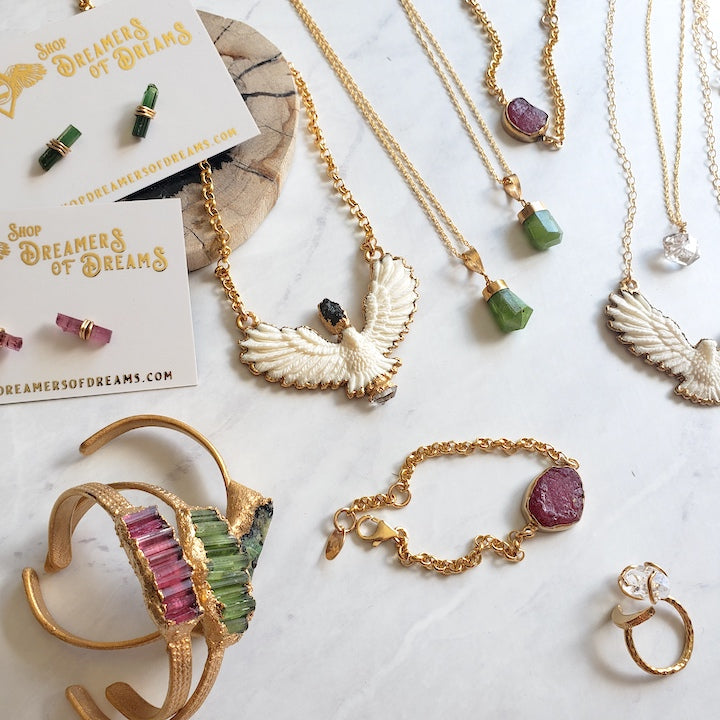 The Dreamiest Unboxing
My favorite part of the process is delivering the final product in a heart centered wow factor wrapping. Upon completion of your piece, you'll receive your final shop invoice with balance due.
You can choose to have it shipped directly to you or your person. You can even add a personalized note xox.
Start Your Custom Piece Today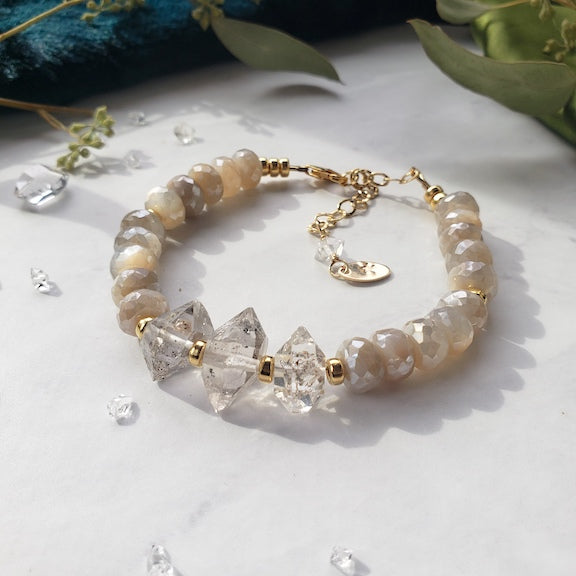 Do you ship Internationally?
Yes absolutely! to most of the world.
All International orders get shipped via USPS priority with tracking.
We are not responsible for any customs or duties in other countries.
Add your item to cart, to see your info
REVIEWS:
Highly Recommend

***** 5 star

I absolutely fell in love with Elizabeth's work.

When I received my first necklace, it was more beautiful than pictured. So much care, love and fierce energy in which this piece was made and packaged is the reason that I HIGHLY recommend treating yourself. - Valerie

Simply Divine

***** 5 star

I just received the citrine pendant I ordered and the energy is simply divine!!! Even opening the package was an experience. It smells heavenly and unwrapping it felt like opening a gift! I look forward to more purchases in the very near future!

- Jennifer

Feeling Special

***** 5 star

I absolutely LOVE my moldavite necklace. It was a prezzie to my self and I have no regrets! It was such a treat to receive her packaging was almost as exquisite as the piece itself. I'm truly looking forward to gifting or purchasing from Elizabeth again. Blessings

- Sarah